Environmental, Social, Governance Report, and Materiality Analysis Effect on Financial and Market Performance
Keywords:
environmental, ESG reports, financial performance, governance, market performance, materiality, social
Abstract
Environmental, Social, and Governance (ESG) Reports and materiality analysis are increasingly becoming a primary focus in socially and environmentally responsible corporate practices. These two elements play an important role in building financial and market performance. This research investigates the influence of ESG Reports and materiality analysis on company financial and market performance. This research method uses secondary data from a number of companies in various industries listed in IDX during the 2017-2021 period. Based on the purposive sampling technique, the sample was 23 companies, so the data processed was 115 data. Regression analysis and other statistical techniques measure the relationship between ESG variables and a company's financial results. The research results prove that elements of social and governance ESG have a negative effect on financial performance. Materiality analysis has a positive effect on market performance. These findings provide a strong basis for companies to pay more attention to ESG, especially on the social and governance factors and materiality analysis as strategic tools in risk management and improving financial and market performance. In addition, this research also provides valuable information for investors and other stakeholders increasingly paying attention to ESG aspects in their investment decision-making. Some suggestions were made for future research on ESG reports and sustainability.
Downloads
Download data is not yet available.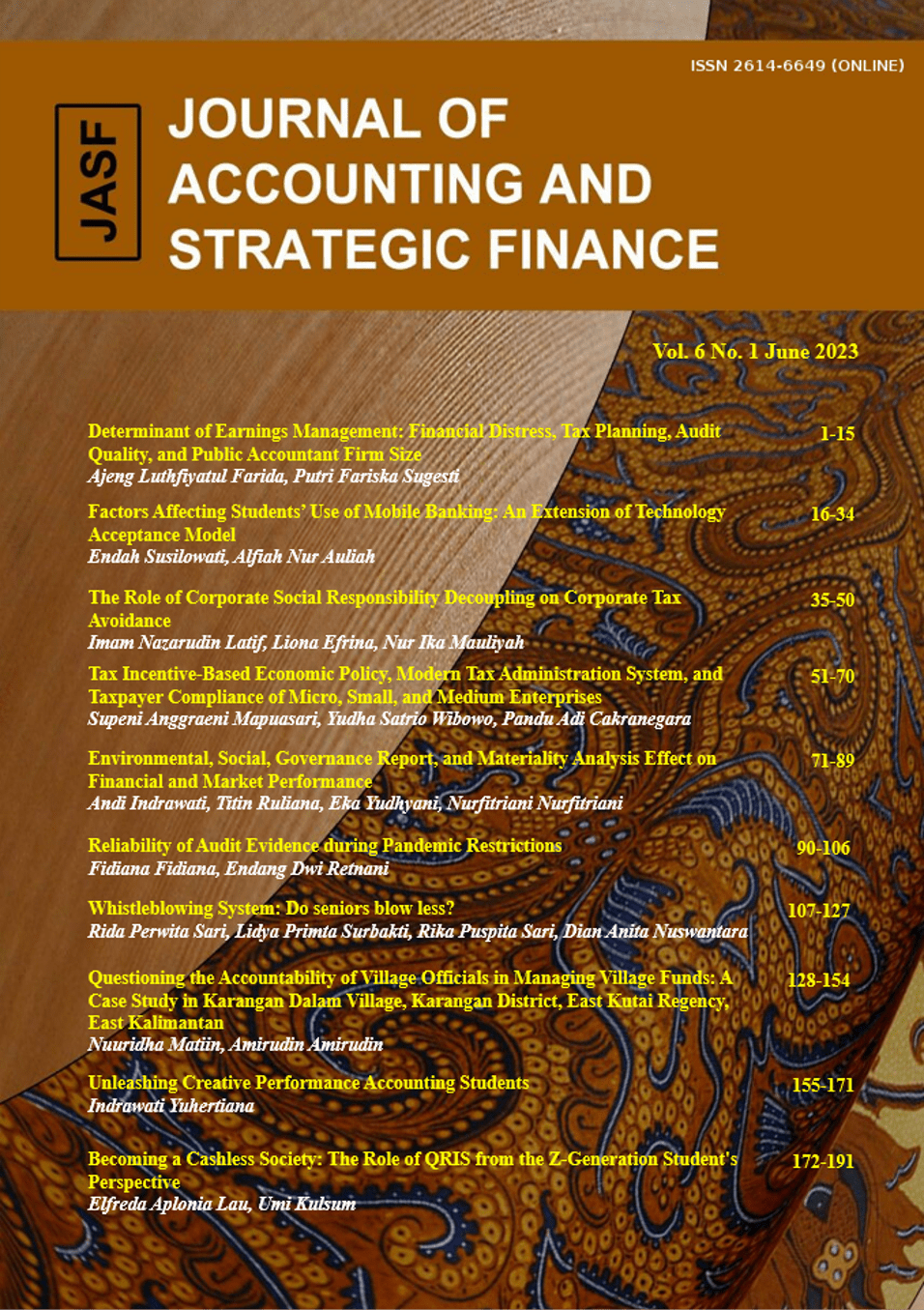 Downloads
How to Cite
Indrawati, A. ., Ruliana, T. ., Yudhyani, E. ., & Nurfitriani, N. (2023). Environmental, Social, Governance Report, and Materiality Analysis Effect on Financial and Market Performance. JASF: Journal of Accounting and Strategic Finance, 6(1), 71–89. Retrieved from https://jasf.upnjatim.ac.id/index.php/jasf/article/view/392