Reliability of Audit Evidence during Pandemic Restrictions
Keywords:
audit evidence, remote audit, risk and materiality, virtual audit
Abstract
The latest technology-based audits have quickly overcome traditional barriers for auditors to access data, client resistance, and client readiness. However, the auditor's capacity to gather adequate and pertinent audit evidence may be hampered by limitations on travel and access as well as a shortage of human resources as a result of health issues. This research aims to analyze and discuss how auditors view and consider audit evidence throughout the pandemic. This qualitative method involves the perceptions of Indonesian Public Accountants (CPA Indonesia), especially in the Indonesian context. The informants were chosen by their involvement in their work as the partners or senior auditors of an audit firm. This research finds that during the pandemic, by fulfilling legal statutory audits and rendering a clean audit opinion even in the absence of compelling audit evidence, auditors can preserve their credibility and stability. Second, in the event of extraordinary circumstances, regulators ought to create audit guidelines and standards. Third, in order to perform audit procedures digitally and remotely, audit firms need to make investments in information technology. The implication is that the crusader, the safe pair of hands, the accommodator, and the truster are four different types of audit engagement partners discovered as a secondary result of this research.
Downloads
Download data is not yet available.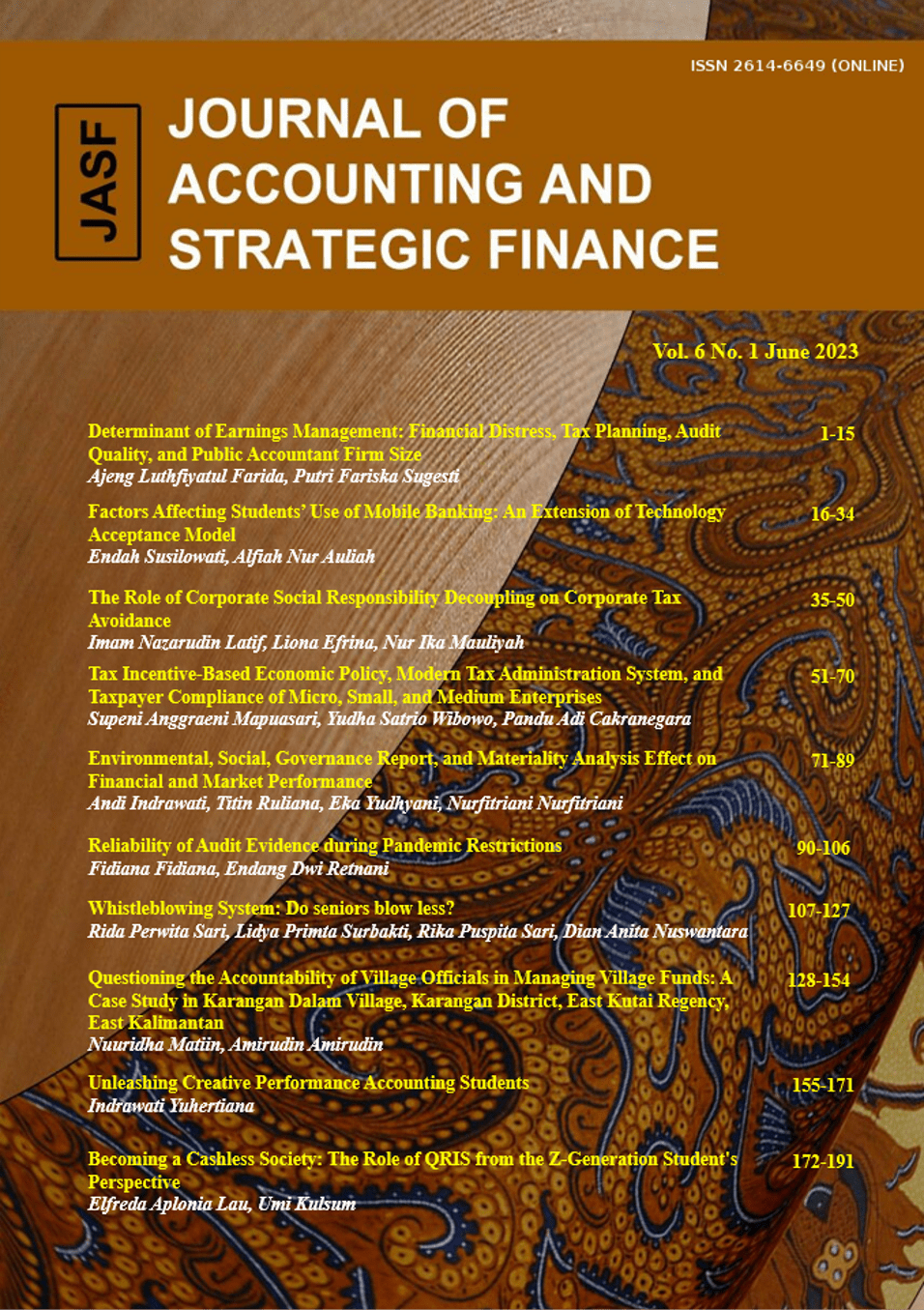 Downloads
How to Cite
Fidiana, F., & Retnani, E. D. . (2023). Reliability of Audit Evidence during Pandemic Restrictions. JASF: Journal of Accounting and Strategic Finance, 6(1), 90–106. Retrieved from https://jasf.upnjatim.ac.id/index.php/jasf/article/view/393